COVID-19 and Silent-Aire Business Continuity
As the COVID-19 pandemic continues to evolve, we want you to know Silent-Aire is doing everything possible to support all our customers and stakeholders through this difficult time. Over the past few weeks, we have been focused on the well-being of our employees, their families and our communities. We are closely following the recommendations of the American, Canadian, Irish and World Health Organizations. We have instituted business continuity and emergency response measures and polices, with best practices to keep our people healthy and facilities open.
Communication from our clients has reaffirmed their requirement for continued delivery of Silent-Aire products. It is our goal to ensure that we can safely maintain the continuity of our global operations and supply at Silent-Aire. Thus, we are taking several measures to ensure the sustainability and health of our employees and are rigorously evaluating and communicating with the vendors in our supply chain. These initiatives include but are not limited to:
1. Activation of our Global Business Continuity Management Crisis Management and Emergency Responses team on February 20th in response to the threat of COVID-19.
2. Educating and communicating with all employees on best practices to contain the outbreak as recommended by health professionals and local authorities. This includes increased hand washing and providing access to hand sanitizers. Disinfecting and extra cleaning of all work- stations and high traffic areas.
3. On Feb 26th we initiated an international travel ban and on March 3rd a ban on all non-essential travel in North America. We Mandated 14-day self-isolation for anyone who has traveled since March 1, 2020. We have mandated that sick employees stay home from work and conduct a health risk assessment prior to returning as per health orders and directives from authorities.
4. Social Distancing: "Plus Six Program" implemented at all global facilities and a "Work From Home Program" for employees that can do their job from home. We have limited movement of people between facilities and have established work zones for employees in production facilities for traceability.
5. Shift flexibility for employees and ability to work around childcare needs due to school closures. We have spread out production staff by increasing night and weekend shifts
6. All Individuals are pre-screened for elevated temperature prior to accessing any Silent-Aire facility. This pre-screening is mandatory for all individuals including employees, contractors, suppliers and guests. If an individual has a temperature exceeding 99.5F they will not be permitted access to the Silent-Aire facility and is referred to local health authority.
7. Any person that has confirmed case of COVID-19 requires 14 days of isolation as per federal, provincial, state and local health authority's orders and directives.
8. On-going real time updates to all employees via group text, voice and website bulletin messaging for communication of any changes as a result of COVID-19.
9. On-going communication with our supply chain to identify any potential risk and the development of strategies to ensure continuity of supply.
10. Daily assessments of the COVID-19 pandemic including daily stand up calls with all management and Executive team.
COVID-19
Essential Service Overview
Training Series
Emergency Response Program
COVID-19
One Team, One Fight
COVID-19
We are in this together
Innovation Series 3: Episode 1
Business Continuity, Collaboration
& Cloud Services during COVID-19
Innovation Series 3: Episode 2
Business Continuity, Collaboration
& Cloud Services during COVID-19
Innovation Series 4
Town of Gilbert Supporting
Essential Services
Training Series
Non-Medical Masks
Plus Six Program
At Silent-Aire we are educating all our employees on the importance of Social Distancing and other strategies recommended by health authorities to fight the spread COVID-19. The Plus Six Program was rolled out globally at all Silent-Aire facilities as we take on the fight against COVID-19 together.
Posters, Hardhat Stickers and Vest Decals
We have created marketing materials to assist with communication regarding this global pandemic.  Feel free to use them at your organization free of charge.  All files are .pdf format. Plus Five Program by Silent-Aire is licensed under creative commons 4.0.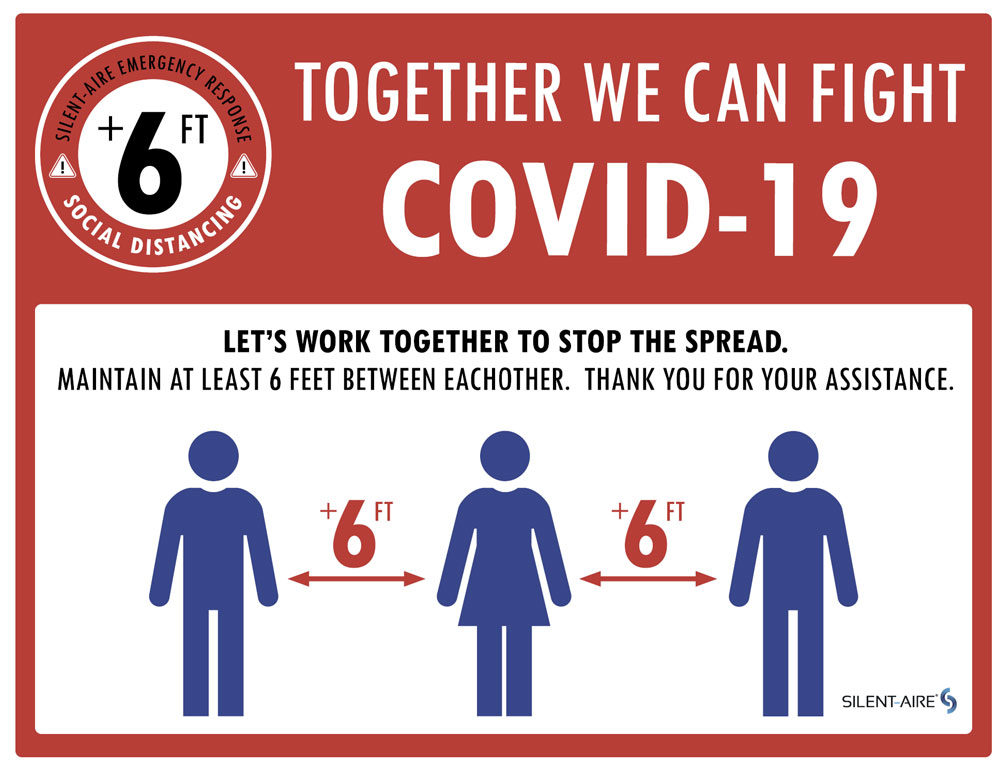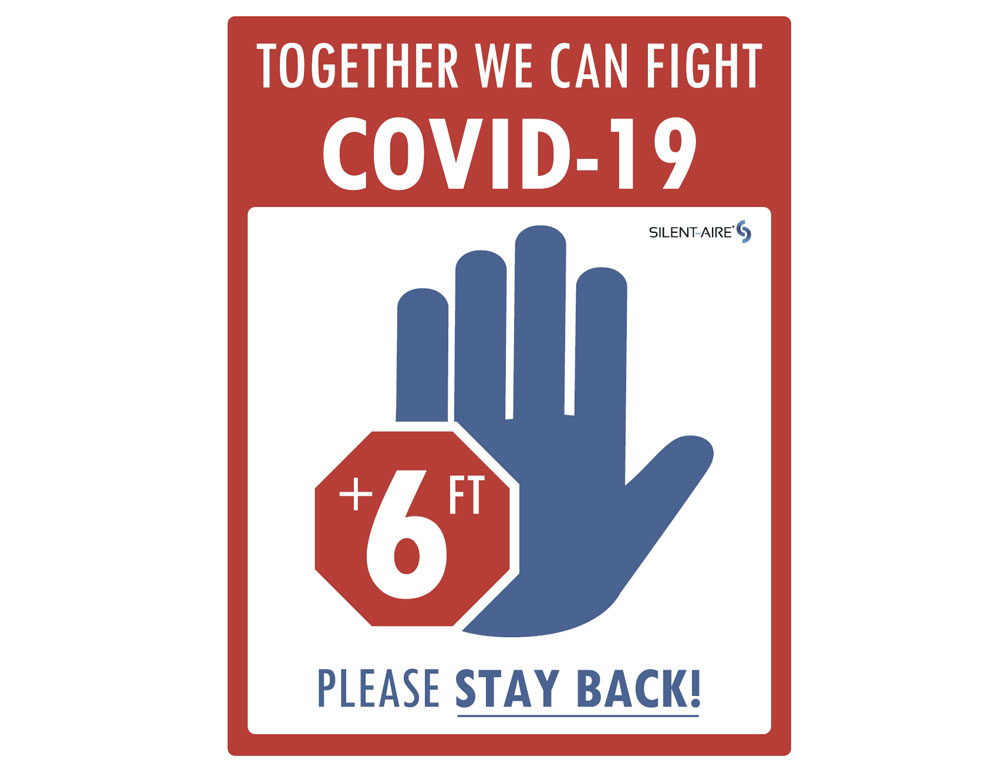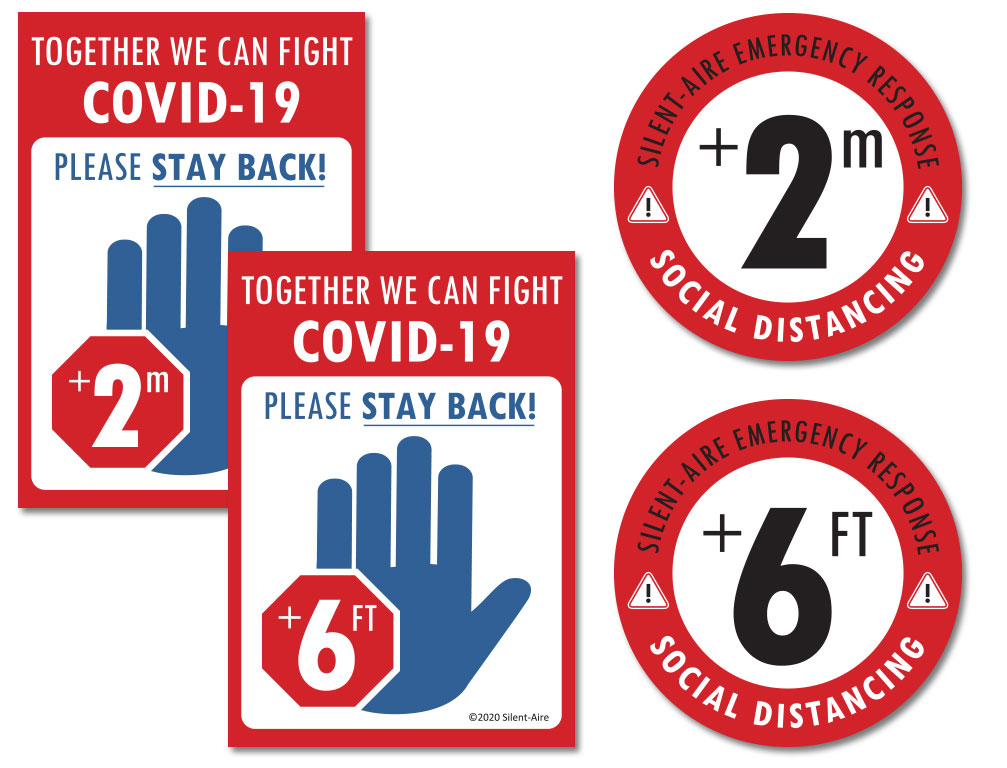 Level 1: Blue is "Standard Operating" which is business as usual.
Level 2: Green is standard operating with "Guarded Measures" the +6 Social Distancing, temperature screening and non-medical mask programs are examples of this.
Level 3: Yellow is "Modified Work".  The facility is operating but with modified work provisions.
Level 4: Red is "Emergency Response" and the highest Alert level when Health and Safety determines there has been a high-risk incident as defined by the Silent-Aire Emergency Response Plan. This may include but not be limited to:
Fire
Severe weather event: flash flood, tornado,
Extended power outage
Hazardous material spill
Man down
Confirmed employee COVID-19 case.
The safety of all Silent-Aire employees is of the most importance and we appreciate your commitment to the Silent-Aire team.